Sanctions on Russia continue
This week the value of Russian assets sanctioned or frozen as part of UK sanctions on Russia's illegal war in Ukraine reached £18.3 billion – as we continue to crack down on individuals propping up Putin's military effort.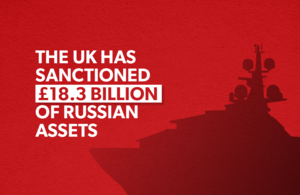 Putin continues to rely on his cabal of elites to maintain control of his industrial complex and fuel his illegal war in Ukraine.
That is why, alongside our allies, Britain has imposed the most severe set of sanctions Russia has ever faced – sanctioning more than 1,200 individuals, over 120 entities and freezing the assets of 19 banks with global assets of £940 billion to cripple Putin's war machine.
Britain continues to take a leading role in supporting the people of Ukraine, targeting all those who aid and abet Putin's illegal war to ensure Ukraine ultimately prevails.