Unlocking 100,000 new homes
Homeownership is a dream everyone aspires to. Getting the keys to your first place is a special feeling. But for too many people, the dream of home ownership feels just like that – a dream.
That is why the government is reforming former EU 'nutrient neutrality' laws, which have been blocking the development of new homes.
The Government is tabling an amendment to the Levelling Up and Regeneration Bill that will, if passed, unlock over 100,000 new homes by 2030, boost the economy by up to £18 billion and support 50,000 jobs.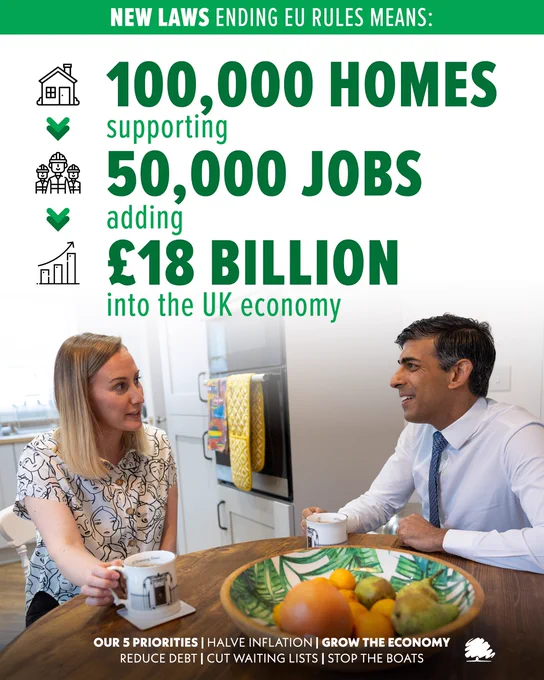 This plan will not come at the expense of the environment. That is why the government is also announcing tougher sewage rules for water companies; doubling funding for mitigation schemes to more than offset the small environmental impact of new homes; and a £225 million investment to help farmers reduce the impact of agriculture on the environment.
This will give back control to local communities over the planning process, allow developers to get spades in the ground on blocked construction sites, and deliver the homes our country needs, while making sure we leave the environment in a better state than we found it.
The "nutrient neutrality" rules which Britain was required to follow before leaving the EU are holding back housebuilding and overriding local communities: these restrictions are misguided and overbearing, blocking new homes without addressing the underlying cause of pollution.
New homes only make a very small contribution to nutrients entering our rivers and household wastewater is a minor contributor to the nutrients problem.
Our own rules can and will mean new homes will be the greenest ever, and new developments will be required by law to improve biodiversity by 10 per cent.
EU rules meant 62 areas across England had new restrictions blocking development imposed on them, blocking new homes and putting small builders out of business.
While Britain was part of the EU, Natural England was forced to issue guidance to 62 local authority areas, including Somerset, Norfolk, Teesside, Kent, Wiltshire and the Solent, mandating that new developments must be 'nutrient neutral'. These rules are particularly burdensome for small local builders.
This isn't about new houses which local communities and councils don't want. Existing planning decisions to grant permission were being overturned by these EU rules and their interpretation by the European Court of Justice (ECJ) , which have been riding roughshod over the desires of local communities.
The Home Builders Federation estimate 145,000 homes have already been affected by these rules, with families prevented from making extensions to their homes, new brownfield high street regeneration stalled, and new care homes and hotels blocked.
Concerns have been raised by environmental campaigners and council leaders from all political parties – these rules have clearly not worked in the British interest. Council leaders called for an 'end the moratorium on housebuilding' in their areas which 'created severe local difficulties without any meaningful benefit'.
This does not mean that we are ignoring the wishes of those who wish to protect the environment: Environmental campaigners called the restrictions 'absolutely insane'.
The plans announced today will unlock over 100,000 new homes while actually tackling the sources of nutrient pollution: Reforming EU 'nutrient neutrality' laws will
unlock over 100,000 new homes by 2030,
boost the economy by up to £18 billion, and
support 50,000 jobs.
The Government's amendment to the Levelling Up and Regeneration Bill will be debated in the House of Lords shortly.
To make quite sure that these homes will not come at the expense of the environment, the government is also proposing to:
Introduce new laws to drive significant investment from water companies to upgrade wastewater treatment works to the highest technical standards by 2030, reducing nutrients entering the water from new development.
Double our commitment to continue supporting nature-based solutions, with £280 million to reduce nutrient levels where it is most needed. The funding means that any additional nutrients from these 100,000 homes between now and 2030 will be more than offset in full. This will fund innovative technologies such as those being trialled in Somerset to pull pollution out of wastewater and new wetlands and nature-based solutions that help absorb nutrients before they enter our waterways.
Work with the major housing developers so they make an appropriate contribution to the scheme. Support farmers to produce food more sustainably. We are investing £200 million in grants into slurry infrastructure to reduce nutrient run off into rivers, and conducting 4,000 inspections on farms each year, making sure that slurry and other pollutants are being handled correctly. We are also investing £25 million to drive innovation in farming to help farmers manage plant and soil nutrients more efficiently, cutting input costs and pollution.
Commit to develop Protected Sites Strategies to boost nature in the areas most impacted by nutrient neutrality and with the most acute housing pressures. These bespoke strategies will identify tangible action needed to restore habitats, species, and geodiversity, while reducing pollution at source, for example through nature-based solutions such as wetlands.
Introducing payment premiums into environmental land management schemes in 2024, accelerating the take up of options, including those that provide benefits for water quality.
Develop a River Wye action plan this Autumn, to tackle the unique issues in Herefordshire.
Ensure new homes do not place undue stress on already stressed local water networks through new requirements where needed for Sustainable Drainage Solutions, reducing pressure on storm overflows from new homes and flood risk.
This builds on our strong record on housing and the environment: almost 2.3 million homes have been built since 2010, giving millions of people the opportunity of homeownership.
Between 1997 and 2010, average housing delivery was 168,000 a year. We have increased this to 193,000 a year since 2010, despite the legacy of Labour's recession.
Government schemes including Right to Buy and Help to Buy have helped over 849,000 people onto the property ladder.
We are on track to meet our manifesto commitment of one million homes over this Parliament. Our new housing plan announced last month will ensure more homes are built in the right places, supported by the right infrastructure – in inner cities and globally renowned hubs like London and Cambridge.
Our Plan for Water will secure clean and plentiful water, for people, for business and for nature, now and for generations to come. We are accelerating £2.2 billion in infrastructure investments for storm overflow management and drought resilience, introducing unlimited penalties for polluters, increasing investment in slurry infrastructure, consulti