The Labour candidate in the Batley and Spen by-election has been on the receiving end of some nasty abuse, which I condemn.
There is no outright proof which if any of the other candidates is behind this but I'm absolutely certain it is not coming from the Conservative campaign.
But two wrongs don't make a right.
Labour candidate Kim Leadbeater said that the last thing people in Batley and Spen need is people to "sow division" - so why is she doing it herself?

And it's not just people like me expressing that concern - it is one of Labour's own MPs and Labour Friends of India.
Labour have put out a leaflet in Batley and Spen which was was accused by one of its own MPs of using "dog-whistle racism" to win votes.
Labour was criticised for distributing a flyer to Muslim voters showing Boris Johnson with India's prime minister, Narendra Modi, in 2019, along with the message: "Don't risk a Tory MP who is not on your side."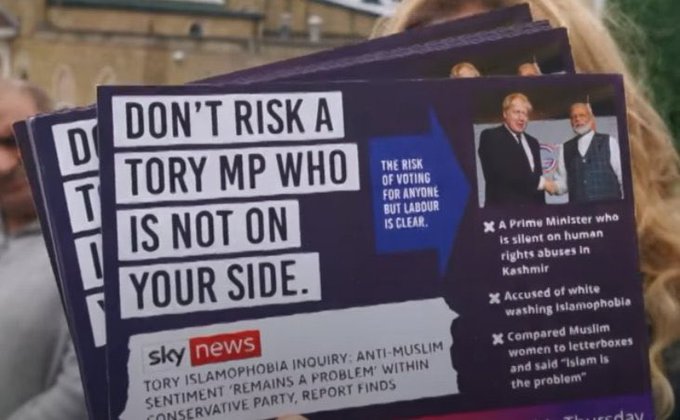 This amounts to using the fact that the Conservative government has diplomatic relations with India to weaponise community tensions between people with links to India and those with links to Kashmir Muslims for sectarian political gain.
Labour MP Navendu Mishra said the "divisive" leaflet sought to turn communities against each other and exposed a "hierarchy of racism" within the party. He added: "We beat our opponents based on policies, not by dog-whistle racism."
Mishra, who resigned from the shadow cabinet in October, said he had faced racism within the party because of his Indian heritage and Hindu faith. He said: "The party needs to do a lot better when it comes to relationships with all communities. With regards to leaflets like this, we don't expect this from Labour."
Labour Friends of India also called for the leaflet to be withdrawn.
So it should be - and both Starmer and Leadbeater should apologise unreservedly for issuing it in the first place.
If Labour act like this they have no moral basis to accuse any other party or candidate of playing the race card, of stirring up hatred, or of sowing division.