Congratulations to Anna Firth on her election as MP for Southend West
The Southend West by-election was held yesterday following the tragic murder of the former MP, the late Sir David Amess.
Congratulations to Conservative candidate Anna Firth who was elected with 12,792 votes which represents 86.1% of the valid votes cast.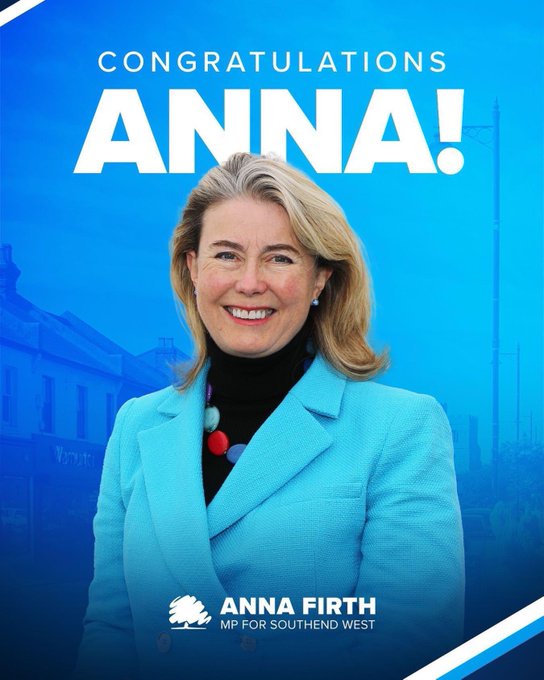 (Source: Wikipedia)
This was a very unusual by election and the only really comparable result was the first Batley and Spen by-election in 2016 when the Conservatives and other main rival parties decided not to oppose the Labour candidate following the assassination of Labour MP Jo Cox. Similarly the Labour, Lib/Dems, Greens and Reform UK parties did not contest Southend West out of respect for Sir David Amess.
Clearly the 86.1% vote for the Conservative candidate was partly a reflection of those decisions and partly a mark of appreciation from the people of Southend in memory of Sir David. Having made the 750-mile round trip to Southend earlier this week as a gesture of respect for Sir David, who was one of the nicest people I ever met, I was impressed with the professional campaign being run by Anna Firth and her team, and I am sure she will be a great MP, but I was also struck by the affectionate comments about her predecessor.
I hope it will be a very long time before the situation arises again, but we now have two precedents for the mainstream parties not opposing the incumbent party in any by-election following the murder of an MP, so as to make it unlikely that a seat can change hands through assassination. I think that principle makes sense.