David Cameron issued a rallying call in his Conference speech, to everyone who wants to build a Greater Britain.
While Labour have chosen to abandon the working people of Britain, the Conservatives are staying true to our values and the values of the British people.
An economy that rewards those who work hard and do the right thing, a society where everyone has a fair shot at success, and a government that maintains a strong defence to protect its people.
If you believe in those values too, please join the Conservative Party today - and join us in building a Greater Britain.
Thank you,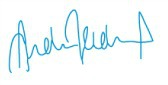 Andrew Feldman
Conservative Party Chairman

---
Promoted by Alan Mabbutt on behalf of the Conservative Party, both at 4 Matthew Parker Street, London, SW1H 9HQ