The Conservative Party is campaigning for a better Britain that works for everyone. And this costs money. In recognition of anyone who donates £25 or more they are offering a special edition mug to commemorate Theresa May becoming Prime Minister ...

As the Labour party spend the summer tearing themselves apart the Conservative Party are focused on one thing: building a country that works for everyone. But to do that we need your help. Unlike Labour who are funded by the Trade Unions we rely on people like you.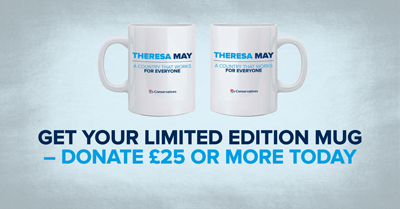 In kitchens and living rooms across Britain, families are looking for a Party that will build a country that works for them - an economy that rewards everyone in Britain, a society that brings people together and a democracy that everyone can have confidence in once again. That is the mission of this Conservative Government.
Thank you, and together we will build a better Britain.
The Conservative Party
PS: Donate £25 today and show you support Theresa May's plan to build a country that works for everyone
---
Promoted by Alan Mabbutt on behalf of the Conservative Party, both at 4 Matthew Parker Street, London, SW1H 9HQ