Half the UK population has now had at least one dose of an approved, tested, safe & effective vaccination against a deadly virus none of us had heard of 15 months ago..
Fantastic achievement!
Congratulations to all the scientists, NHS staff, volunteers, & everyone else involved.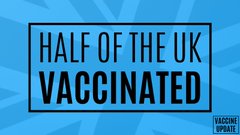 That includes more than 12 million people who had both of their two doses and are now fully vaccinated.
As of 24 April, 45,580,400 COVID-19 vaccine doses have been given in the UK.