Fantastic news that all adults in Britain have now been offered an approved COVID-19 vaccination.
Adults in England can book now by ringing 119 between 7am and 11pm seven days a week or online at
Book or manage your coronavirus (COVID-19) vaccination - NHS (www.nhs.uk)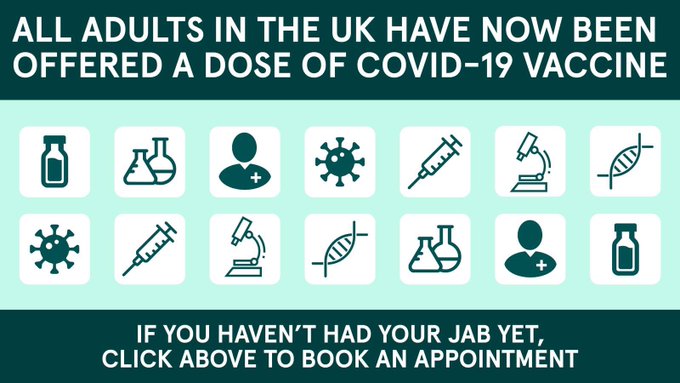 All adults in the UK have now been offered a first dose of the COVID-19 vaccine, hitting the target to reach this point ahead of schedule.
In February, the government set a target that all adults would be offered a vaccine by the end of July, and that two in three adults would be double vaccinated by 19 July.





Through the world leading success of Britain's vaccine programme, we have exceeded those targets – now that every adult has been offered a vaccine, 88 per cent of adults have received a first dose, and 68 per cent have received two doses.





The success of Britain's vaccine programme has severely weakened the link between cases, hospitalisation, and deaths, making it possible to ease restrictions tomorrow on 19 July.