The Conservatives have a final offer on party campaign mugs ...

With so many people joining our campaign every day, we're running low on Campaign 2016 mugs, and we will likely run out of mugs by Wednesday. Once they're gone, they're gone.
But we don't want you to miss out so donate £20 to claim your mug now.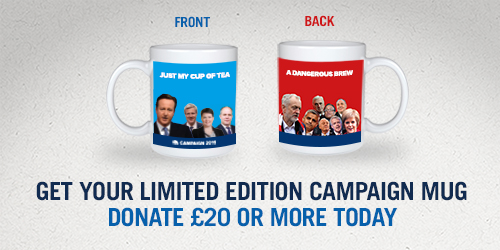 In just a few weeks' time people across England, Scotland, Wales, Northern Ireland and London will go to the polls to decide the future of their local area for the next four years. And because these elections are so important, the money you donate will go directly to support the campaign.
Help us win. Donate now.
Thanks for your support,
Conservative Campaign Headquarters
PS: Want the chance to win a Campaign 2016 mug signed by David Cameron? Donate £50 or more and we'll enter your name into a draw.
---
Promoted by Alan Mabbutt on behalf of the Conservative Party, both at 4 Matthew Parker Street, London, SW1H 9HQ