There has been a lot of destructive rubbish written in certain newspapers recently about the Conservative party's review proceedings, sometimes known as the "Feldman Review."
I found it particularly unfortunate that a proposal to help constituency conservative associations which want to merge and pool their resources was misrepresented in the press as some sort of "cull of associations" designed to help a particular candidate in the next party leadership election.
For one thing the idea of "Multi-Constituency Associations" was only ever put forward as something to be tried when the existing associations involved had volunteered and their memberships had endorsed it in a ballot. Parliamentary and council candidates would still be selected by members in the relevant constituency and there would be no impact whatsoever on the election of party leader because it is members, not Conservative Associations, who have the vote: each individual member would still have one vote in the final stage of that election.
There are some excellent and constructive proposals in the Feldman review and I very much hope they will move forward.
Lord Feldman of Elstree has now published a letter explaining the status of the party review which is available on the party website
here
ad has written out with the following email
Subject:

The Party Review:

I wanted to update you on the progress of the Conservative Party Review. As colleagues will know, this is an ongoing consultative process.
We established the Review to look at how the Party works and to ensure it is in the best possible shape to win elections – whether local or nationwide – for years to come.
The Review Panel was composed of representatives from all areas of the Party: volunteers, councillors, MPs, MEPs and Peers. 25 Panel meetings for Party Members have taken place across the country; more than 60,000 people took part in an online survey; and thousands of submissions have been made to the Panel.
I am delighted that Members across the country have really engaged with the consultation, united in our common desire to answer the question of how we thrive and grow in the twenty-first century. The recommendations detailed in the initial draft report came about because the Party had an honest, respectful and well-meaning debate amongst itself about the condition of our organisation and its future.
The Party Board had a detailed discussion of this first draft report earlier this week and will consider a revised draft in the coming months. Thereafter, the report will be discussed at the National Convention before being submitted for final approval to the National Convention at our Party Conference in October.
The Panel identified three main areas where reform should be considered: membership administration; the Party structure; and candidates. I would like to fill you in on some of the key recommendations that have been made so far.
With membership, the Panel has suggested that the administration of membership could be centralised to reduce the bureaucratic burden on Associations, and to improve the accuracy of the membership database.
And to address Members' growing appetite for more opportunities for political engagement, the Panel proposes creating a Members-only area on conservatives.com and establishing additional Silver and Gold levels of membership with additional benefits to enhance the membership experience.
In terms of the Party structure, we all know that our local Associations are the very bricks and mortar of the Party. We owe our success to their hard work and tireless dedication. We also owe them a responsibility to ensure that the Party's structure works to their best interests. However, many Associations are increasingly finding that salaries and office costs are consuming an ever greater proportion of their hard-earned income, rather than campaigning activity. We owe it to our Associations to help them better fulfil all the functions of a campaigning organisation – now and for years to come.
So the Panel believes there is a need to consider options to strengthen the Party infrastructure and promote working in partnership. It proposes that we should run pilots for multi-constituency Associations (MCAs) in areas where Associations have come forward and asked to take part. There will be a vote of the Members in the proposed pilot areas to approve the MCAs. Any Associations with more than 200 Members and a fully operational structure will be able to opt out of the pilot MCA where a majority of its Members vote against the proposals; and there will also be a mechanism for MCAs to be dissolved if they do not work out.
For these pilot MCAs, the Panel proposes that CCHQ should provide residential professional training for its Officers; financial support to ensure at least one full-time professional Campaign Manager in each MCA; priority access to senior Party representatives and speakers for events; and help from CCHQ with the drafting of its business plan.
Based on the performance of these pilots, the Board should consider extending the scheme to other areas that request them.
Conservative-led Councils have been pioneering effective partnership for some years now with great success. We believe this same effort to share experience and resources could be replicated by the Party organisation.
Finally, we all welcome the success we have had over the last few years in attracting candidates from more varied backgrounds. We need to build on this success. So the Panel has looked at how we can improve the composition of the Candidates List to ensure that our candidates for Parliament are recruited from all social and professional backgrounds, and from all parts of Britain.
The Panel have suggested that a professionally-run Candidates Outreach Programme could be established to improve the diversity of our candidates across all levels of government. This is in addition to the Conservative Candidate Bursary Scheme that I announced at last year's Party Conference, which will ensure that income will never be a barrier to standing as our candidate for Parliament.
These recommendations and others have come about from the Party's 10 month-long process of self-evaluation.
We will continue to consult on the Panel's recommendations over the coming months and I would welcome your feedback, as we all work towards our shared objective: to place our Party in the best possible position for future success.
We will be publishing more detail on our website in the coming weeks, so please do have a look and let me know what you think.
With best wishes,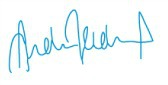 THE RT. HON. THE LORD FELDMAN OF ELSTREE
Chairman of the Conservative Party
facebook.com/conservatives
---
Promoted by Alan Mabbutt on behalf of the Conservative Party, both at 4 Matthew Parker Street, London, SW1H 9HQ